Rooballs on Mt Kilimanjaro!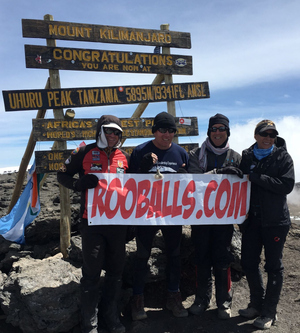 You Never Know Where Rooballs Might Pop Up!
We have a regular customer from Sydney who buys a batch of the scrotum keychains each June/July. We discovered that he was presenting them to participants as an achievement award on climbs to the peak of Mt Kilimanjaro in Africa!
Mount Kilimanjaro (or just Kilimanjaro), with its three volcanic cones, Kibo, Mawenzi, and Shira, is a dormant volcano in Tanzania and is the highest mountain in Africa, with its summit about 4,900 metres from its base, and 5,895 metres above sea level.
Our customer took part in the trips himself and found the unusual Aussie gift was a perfect quirky way to celebrate the achievements of the hikers. In 2016 he was kind enough to send us some photos at the top of the mountain proudly displaying the Rooballs.com banner!
You will notice also that one of them is holding one of the keychains.
Thanks for the great pic Bruce! Who would have thought... kangaroo balls on Mt Kilimanjaro!
It shows that Rooballs.com products make great achievement awards with a real difference.
And you never know where Rooballs might pop up next!

WHERE HAVE YOU SEEN OUR ROOBALLS?
Do you have any pictures showing an unusual location with one of our RooBalls products?
If so, send us your pics via email to: rooballs@rooballs.com
If we use your pic on our site we will send you a special discount code as a thank-you!
Peter Byron - the Souvenirs Guy
Sydney, Australia
Back to : ROOBALLS AROUND THE WORLD